We are delighted to share with you that Bookado, the solution for fast booking of meeting rooms and their availability checking, has been tested on the first day of the world's most influential media, entertainment & technology show – IBC Show 2018!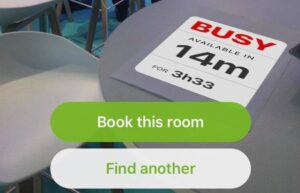 Bookado has been tested to organize ad-hoc and planned meetings during exhibition, and to have immediate response while checking if the meeting space is available. Our test partner has prepared a beautiful two level stand for the exhibition, containing 2 meeting rooms and 3 tables.
Both, meeting rooms and tables, have been marked with Bookado AR-markers, which allows to identify quickly if the room or table is booked or not, and show how long it is available for.
It is also possible to book the room/table immediately or in the future. This simplifies the administration of bookings and make sure there are no conflicts!
The most important benefit of using Bookado is to save time and reduce waste. Sales people on events like IBC should focus on business generation, not on so trivial tasks like room booking. First tests shows that Bookado gives the ability to shorten the process of meeting space booking down to seconds, and use saved time to generate business.
says Michał Puterman, co-owner of Bookado
and Director of Innovation at ValueLogic Sp. z o.o.
E-mail us at start@bookado.io to find out what we can do for you!